Now I know that it is hard to go wrong with a Sunday roast and a leg of lamb totally rocks in it's own right. I'm not disputing that. If, however, you really want to take it to the next level, have I got a recipe for you. Yeah baby.
Kashmiri Style Leg of Lamb – serves 8
I'm almost certain this is a Charmaine Solomon but I've no idea what book it's from.
1 leg of lamb 2.5 kg
1 tablespoon, grated ginger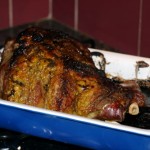 4 cloves garlic
3 teaspoon salt
1 teaspoon cumin
1 teaspoon turmeric
1/2 teaspoon pepper
1/2 teaspoon cinnamon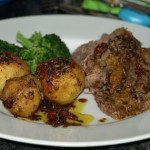 1/2 teaspoon cardamon
1/4 teaspoon ground clove
fresh chilli
2 tablespoon lemon juice
1/4 cup yoghurt
2 tablespoon blanched almond
2 tablespoon pistachio
1/4 teaspoon saffron
3 teaspoon honey
Remove skin and excess fat from lamb. Make deep slits All over lamb. Combine ginger, garlic, salt, ground spices and lemon juice. Rub over lamb pressing well into slits.
Put yoghurt, almonds, pistachios and saffron into blender. Blend until smooth then spoon over lamb. Drizzle the honey over, cover and allow lamb to marinate over night in fridge or two days if possible.
Because I wasted so much time looking for the recipe, I just threw everything in the thermomix and blended it for 5 seconds on speed 8 and then threw it over the lamb. I didn't want to waste precious marinating time.
Cook 2 ½ to 3 hours, less if using a leg less than 1.5kg
Gujarati Potatoes
serves 4 – 6
500g potatoes
1 tablespoon tamarind pulp
2 teaspoon muscovado
1 1/2 tablespoon ghee
1/2 teaspoon mustard seeds
1/2 teaspoon turmeric
1/2 teaspoon chilli
1 teaspoon ground coriander
1 teaspoon cumin
1 teaspoon salt
2 fresh chillies
2 tablespoon dessicated coconut
Peel and dice potatoes. Parboil. Soak tamarind in hot water for 5 minutes. Squeeze firmly and strain. Dissolve muscovado in tamarind liquid. Heat ghee and fry mustard seeds until they pop. Add turmeric, chilli, coriander, cumin and fry on low heat for 1 minute. Add potatoes and toss for a minute longer. Sprinkle with salt, tamarind juice, sliced chillies, coconut and stir. Put in oven (190 degrees) for about 20 minutes more.

Same Ka Bhaji – Spicy Fried beans
serves 4 – 6
500g tender beans (any type)
1 tablespoon ghee or oil
1 medium onion, finely chopped
1/2 teaspoon ginger
1 teaspoon turmeric
1 teaspoon garam marsala
1/2 teaspoon chilli
2 teaspoon salt
2 ripe tomatoes, chopped
squeeze lemon juice
2 teaspoon tamarind concentrate
Top and tail beans. Cut into bite sized pieces. Heat ghee and fry onion, ginger, chilli and garlic until golden. Add turmeric, garam marsala and salt, fry for 2 minutes. Add tomatoes and cook until they are pulpy and most of the liquid evaporates. Add beans and stir well. Partially cover with lid and cook until beans are just tender. Stir in lemon juice and tamarind.
And there my friends, you have it. Pure deliciousness.
So, whilst that little number was cooking, I also squeezed in some bread rolls for Monday lunches.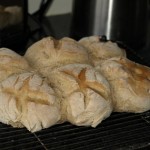 I also managed to whip up a cake as I have a few more carrots than I thought I could use before they went saggy. This is a gorgeous moist cake and practically healthy. I have to say though, it tends to freak me out a little when I need to use bicarb in cooking. Probably because I have to get it fron the laundry. I used the thermomix, presumably you could do the same thing with a food processor.
Carrot and Prune Cake
adapted from Australian Womens Weekly Cakes and Slices Cookbook
250g carrots

200g prunes
50g walnuts
75g sultanas
3/4 cup plain flour
3/4 cup self raising flour
1 tablespoon mixed spice
1/2 teaspoon bicarb soda
3 eggs
1 cup muscovado or panella or rapadura (you get the idea)
300g plain yoghurt
1/4 cup olive oil
Grease a 19cm square cake pan.
Place carrots in thermomix and chop for 5 seconds on speed 7. Then add prunes and walnuts for 5 seconds on speed 4. Scrape down the sides and add everything else. Blend for 5 – 10 seconds on seed 5 until it is well combined.
Pour into cake pan. Bake at 170 degrees for about 1 1/4 hours. Stand for 10 minutes before turning out onto a wire rack to cool.
Apparently it keeps for 5 days. I've never managed to test that theory.
That was the Sunday that was. I hope yours was satisfying in every little way.