Bulk buying fresh food means lot's of cooking when you get home. Particularly when the Bread Winner has not made lunch for the Ankle Biters and dinner also needs to be prepared.
So, today the Kitchen Playground produced leftover coriander pesto burger and cheese in sandwiches for lunch. Adzuki bean soup with cheese and thyme scones for dinner, several jars of plum jam, a loaf of bread and a plum and apple chocolate cobbler. Which left me only half an hour to raise a sweat at the gym. Not enough to negate the cobbler I'm afraid.
Let me lay some recipes on you.
Coriander Pesto Burgers.
500g beef mince
1/2 cup coriander pesto
1/2 cup fresh breadcrumbs
1 egg, lightly beaten
100g feta, crumbled
Combine all ingredients and shape into patties. Serve on buns with pesto instead of sauce and salad.
Makes 6.
Adzuki Bean Soup
2 cups dried adzuki beans
1 lime
3 tablespoons miso
1 large onion, finely chopped
2 cloves garlic
1 long red chilli.
Soak beans overnight. Drain and simmer in slow cooker on high for 3 – 4 hours. Skim foam from top. Add in all other ingredients and simmer for a further 2 hours. Transfer to thermomix or food processor and blend until beans are pureed. Serve with a dollop of sour cream.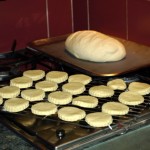 Cheese and Thyme Scones.
2/3 cup grated cheese
300ml flour
3 teaspoons baking powder
1 egg
60 cold butter, cut into cubes
1/3 cup milk
3 sprigs thyme
Preheat oven to 200 degrees. Throw all ingredients into thermomix. Combine for 10 seconds on speed 7. Knead for 1 minute.
Alternatively, combine a large mixing bowl and knead by hand.
Turn out onto floured bowl. Briefly knead and then roll out into 2cm thick. Cut into desired shapes. Lightly glaze with milk. Bake on lightly floured tray for 12 – 15 minutes
Thermomix Plum Jam
adapted from thermomix book
1 kg red plums, seeds removed
500g muscovcado
juice 1 lemon
2 teaspoons ground ginger
2 teaspoons ground cinnamon
Place plums in thermomix and chop for 10 seconds on speed 10. Add all other ingredients and cook at 100 degrees for 40 minutes on speed 2.
Test that it is ready to gel by tipping slightly to see if top is starting to firm up. If not, cook for a couple of minutes more. When ready, pour into sterilised jars, seal and tip up side down to create air lock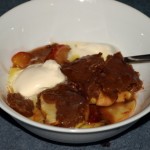 Apple and Plum Chocolate Cobbler
1 apple, cored and thinly sliced
3 plums, stone removed and sliced
1/2 cup muscovado
2 teaspoon cinnamon
1 tablespoon plain flour
1/3 cup water
10g butter
For topping:
1/2 cup flour
1/4 cup muscovado
2 tablespoons soft butter
2 tablespoons fair trade cocoa
1 egg.
Place fruit in bottom of a small casserole. Mix other ingredients and pour over.
Combine topping ingredients and place dollops of it on top of fruit mixture. Bake at 190 degrees for about 35 minutes. Serve with a dollop of cream.
Now if you'll excuse me, Little Susie Homemaker here has some sewing to do…