This is a thermomix adaptation of Luke Nguyen's recipe from The Food of Vietnam.
Quy Nhon Fishcakes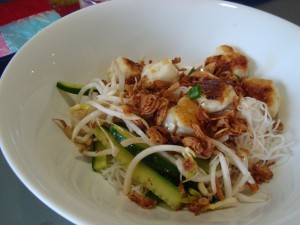 Ingredients
1 tablespoon fish sauce
2 skinless white fish fillets
salt and pepper
1/4 teaspoon sesame oil
1 clove garlic, peeled
5 spring onions, white part only, reserve green and slice thinly to serve
3 tablespoons sesame oil for cooking
To serve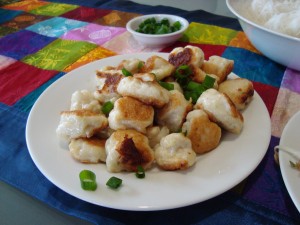 Nuoc mam dipping sauce
Sliced chillis
Cucumber, seeded and julienned
Fried shallots
Method
Place fish sauce, salt and pepper, sesame oil, garlic, whites of spring onions in thermomix and blend on speed 7 for 2 – 3 minutes, scraping sides down several times until mixture is a thick, smooth paste.
Rub hands in oil and form mixture into dessert spoon sized balls.
Heat sesame oil in fry pan and place in pan cooking for 2 minutes per side until golden and cooked through.
Place all serving ingredients on separate plates to serve.