We spent January travelling through Vietnam. We began our adventure in Hanoi, took a day trip to Ha Long Bay and then traveled to Danang, Hoi An, Nha Trang, Can Tho, Phu Quoc and Ho Chi Minh City. The food was a major focus of our trip. It differed from region to region and the best we ate was undoubtedly the street food. I've been using Vietnamese flavours in my cooking (or cooking Vietnamese recipes) since we got back.
The most important thing I learnt was that there is fish sauce and there is fish sauce. The ordinary cheapo brands are fine for cooking but as a dressing sauce, it HAS to be made in Phu Quoc. They produce a first press, extra virgin nuoc mam using traditional methods that is light and sweet and salty and I could drink it from the bottle. Red Boat is the only brand of Phu Quoc fish sauce that I have found here and it is a lot pricier than the others so I keep a cheap (made in Vietnam) brand for cooking and just use the Red Boat for dressing. Try it. You'll thank me.
This warm salad was inspired by a DIY BBQ restaurant called Lac Canh in Nha Trang.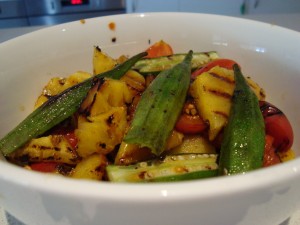 Warm Okra, Tomato & Pineapple Salad.
Ingredients
1/2 small pineapple, peeled and cut into thick strips or wedges
6 – 8 okra, end chopped off and sliced down the middle
5 – 6 tomatoes
1 1/2 tblsp melted coconuut oil
1 1/2 tbslp Red River fish sauce
Method
1. Heat a BBQ frypan or BBQ plate and place all vegetables evenly on top, beginning with the okra, then the pineapple and tomatoes last.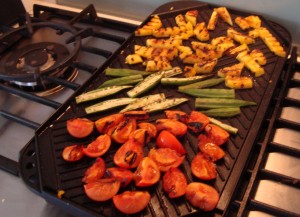 2. Check after 5 minutes and turn when the vegetables show grill marks. Cook for the same amount of time on the other side.
3. Mix the coconut oil and fish sauce.
4. When cooked, place vegetables in a bowl, dress with cocnut oil and fish sauce and serve.