Chez KP was demolished a few months ago. That's right. Razed to the ground. It's being rebuilt bigger and better than ever. You will not be surprised to discover that the kitchen will be the centre of the house and features more upgrades than any other room. It will be light and spacious and truly splendid. In the meantime however, we are renting a rotten little rabbit warren of a place with the worst kitchen I have ever had the misfortune to utilise. Stepping into it causes instant anger. Hence the lack of blogging in recent times.
Here is my new kitchen so far: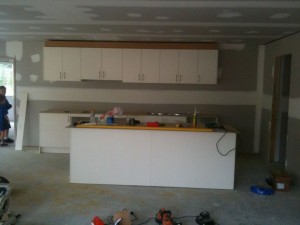 Tonight I decided to give one of Jamie Oliver's 15 minute meals a whirl. Time is pretty tight at the moment what with working two jobs, Mum's taxi duties and full time studies; combine that with the kitchen from hell and dinner in 15 is pretty appealing. Of course I didn't expect it to actually take 15 minutes as I don't have a magic fairy who gets all the ingredients and implements ready for me. It actually took me 30 minutes from entering the kitchen to placing dinner on the table. It took 10 minutes to rummage through my horrid little excuse for a pantry for the required ingredients, 1 minute to open the stubborn jar of capsicum and four minutes to have a mini cleanup when things got too disgusting. The actual cooking part did only take 15 minutes.
The meal I cooked was chilli con carne meatballs. The flavours and textures were stunning. The preserved lemon in the bulghar wheat was truly sensational. I will definitely make this again but not if I only have 15 minutes to spare. I would not recommend it for people who are stuck using cheap and nasty electric stove tops. In fact, I probably won't make it again until my new kitchen is ready for that very reason.
The following images are my entire current kitchen in the aftermath of this meal. The cleanup was well over 15 minutes.