What a cheek! She doesn't update her blog for six months and then just jumps in with a cake. Oh well, it happens to the best of us I'm sure. I'm not even going to bother offering excuses, reasons or trying to make deals with myself as to how often I'll be blogging from here on in. I'll just thank two women who were at the Alphington Primary School Makers' Market for the prompt. You know who you are!
Everyone else, just sit back and enjoy the cake!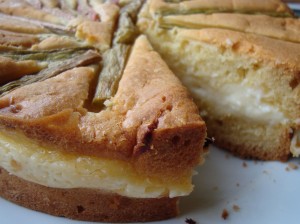 This is adapted from a Women's Weekly recipe for the thermomix to remove the need for icky old custard powder and to whip it up in a flash… plus cooling and cooking time.
First make the custard as it needs to be cooled before becoming one with the cake.
Custard
55g sugar
1/2 teaspoon vanilla paste
2 eggs
250ml milk
25g cornflour
Place sugar in bowl and pulverise for 20 seconds on speed 9.
Scrape down sides and add all other ingredients.
Cook for 7 minutes at 90 degrees on speed 4.
Remove from TM bowl, place in a small bowl, cover surface with sling wrap so a skin does not form and place in fridge or freezer to cool.
Cover TM blades with water and mix for 20 seconds at speed 8. Empty. It's clean enough now to make your cake batter.
Cake
200g butter, softened
100g caster sugar
2 eggs
185g plain flour
2 1/2 teaspoons baking powder
4 fresh rhubarb stalks, cut lengthways and halved in length
Preheat oven to 180 degrees
Place sugar and butter in TM bow and mix for 20 seconds on speed 4. Scrape down sides.
Turn on to speed 3 and add eggs one at a time. When they are both thoroughly incorporated (about 30 seconds), add flour and baking powder. Blend for another 30 seconds, scrape down sides and repeat.
Spread half the mixture into a prepared, round cake tin.
Whisk custard and spread over cake mixture. Top with remaining cake mixture.
Place rhubarb on top, melt butter and brush over rhubarb.
Bake for about 1 1/4 hours. Cool in pan.