Temperatures have been more than 20 degrees cooler this week in Melbourne than it was on Saturday. Which has brought about some difference in meals. We rely did get a little tired of salad variations. Yesterday I decided to soak some beans in preparation for tonight. Kidney beans were first to hand, bringing with them thoughts of chilli.
One thing I love about chilli, whether con carne or not, is that it is fabulous early in the shopping week with freshly picked produce but it is also magnificent towards the end of the week when you need to clean out the vegetable tray to avoid any wastage. That is key to running a tight food budget. Chilli is something that changes a little for me every time I cook it but the essence remains the same. This recipe is as it happened tonight.
I do not saute the onion and garlic in this recipe as I don't find it necessary. No raw taste is left and it saves putting nay oil into the pot. I just use the same pot that I cook the beans in, unwashed. Anything that reduces dishwashing is a winner in this house, it saves water, time and energy (mine)!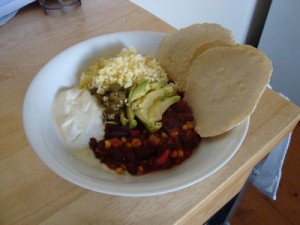 Vegetarian Chilli
2 cups cooked, drained kidney beans
2 corn cobs, kernals sliced off
2 tablespoons chopped, fresh oregano
1/2 red capsicum, diced
1/2 green capsicum, diced
1 onion, diced
1 small carrot, diced
2 – 3 cloves garlic, minced
1 tablespoon cumin
400g tin tomatoes or 5 – 6 fresh tomatoes, diced
140g tin tomato paste
1 teaspoon vegetable stock concentrate or 1 stock cube
*2 – 3 jalapenos
Just cover beans with fresh water and then add everything else
Simmer over low heat, stirring occasionally until thickened, approximately 30 minutes
Serve with grated cheese, sliced avocado, sour cream and tortillas.
*either mix the jalapenos in when cooking or serve them separately so everyone can manage their own heat levels.