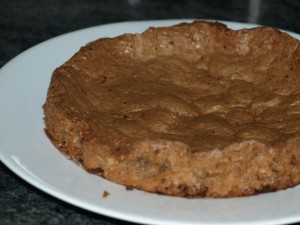 Son and Heir loves to cook with me. Best of all, he's actually old and coordinated enough to be useful these days. He even has his own 'kiddie kutter', an Ankle Biter safe knife that he uses with great pride (check the ad on on the side if you're interested). Lil Miss and the Bread Winner fell asleep on couches this afternoon so Son and Heir and I had a big kitchen session.
First up was thermomix tartare sauce. Quick, easy, delicious. We worked together on that one. Next came mayonnaise with the last of the walnut oil. Expensive but heavenly. I eek it out with grapeseed or rice bran oil to make it last.
Next came dinner and dessert. For dinner, we had tofu stroganoff (recipe to follow). Son and heir floured the tofu, cut the mushrooms, peeled the onions and put everything into the the thermomix at the appropriate times. He also turns the dial to the right number to get it going.
Dessert was adapted from the latest offering at Stone Soup. Son and Heir turned the dial to beat the egg whites, spooned in the muscovado nice and slowly, spooned the mix out into a jug. He greased and lined the springform pan, put the chocolate in the thermomix, turned the dial to chop it. Then he scraped it out into the jug to blend and poured the mixture into the spring form. And of course lots of spoon licking was involved. I separated the eggs and soaked and chopped the figs. So he can call the dessert his own. He was proud fit to burst.
Tofu Stoganoff
adapted from Super Food Ideas

2 tablespoons plain flour
1 tablespoon paprika
600g firm tofu, cubed
1 tablespoon oil
1 onion
3 cloves garlic
500g mushrooms, quartered
1 cup chicken stock
1/2 cup sour cream
1 tablespoon tomato paste
2 tablespoons snipped chives to garnish
Combine flour and paprika. Coat tofu cubes with flour mixture. Heat oil in frypan. Pan fry tofu until golden brown on each side. Set aside in food warmer.
For conventional cooks:
Finely chop onion and garlic. Saute until golden. Add mushrooms and saute for 2 minutes more. Add stock and tomato paste and simmer for 5 minutes. Add tofu and simmer for another minute.
Serve over hot noodles and top with sour cream and chives.
For thermomix cooks:
Place quartered onion and peeled garlic in thermomix and chop for 10 seconds on speed 7.
Add oil and saute for 3 minutes at 100 degrees on speed 1.
Add mushrooms, saute for another 3 minutes on reverse speed 1.
Add stock and tomato paste, cook for another 4 minutes on reverse speed 1 at 100 degrees.
Add tofu and cook for 1 minute at 100 degrees on reverse soft speed. Incorporate tofu into sauce with spatula.
Serve over hot noodles and top with sour cream and chives.
Approx. cost per serving $2.25
White Chocolate and Fig Meringue Tart
an adaptation of an adaptation, original by the uber fabulous Maggie Beer
4 egg whites

pinch salt
130g muscovado
7 dried figs
100g fair trade white chocolate, roughly chopped
pure cream to serve
Preheat oven to 180C and grease and line a springform pan.
For conventional cooks:
Beat egg whites with salt until firm peaks form then gradually spoon in muscovado and beat until dissolved and mixture is glossy. Place figs in a heatproof bowl and pour over boiling water. Allow to stand for a minute then drain and roughly chop, discarding stalks.
Chop chocolate until fine, then fold chocolate and figs through the meringue mixture and gently spoon into prepared tin and smooth top.
Bake 45 minutes or until top is well browned and it feels firm. Allow to cool.
For thermomix cooks:
Ensure thermomix bowl is completely free of grease. Add butterfly, egg whites and salt. Beat for 3 minutes on speed 4. Check that egg whites are stiff. With thermomix still running on speed 4, spoonful by spoonful, add muscovado, ensuring it is properly dissolved. Remove from thermomix and place in a large bowl.
Chop chocolate on speed 5 until roughly the size of small choc chips. Soak figs in boiling water for 5 minutes. Drain and roughly chop.
Gently fold figs and chocolate into meringue. Spoon mixture into prepared spring form.
Bake 45 minutes or until top is well browned and it feels firm. Allow to cool.
serves 6.
Approx. cost per serving $1.50