How it warms my heart. I practically nailed the stock this weekend too. Not perfect but a 99.5 as judged by the Bread Winner. I blame the lack of licorice root which I couldn't get for love nor money. Despite wild wind storms and days of lost power, I manged to finally get to the I Love Pho exhibition. Sadly I didn't get to focus as much as I would have liked as I had the Ankle Biters with me both in full motor mouth mode. So I could barely hear the audiovisual display let alone concentrate on the captions of the photos or the pho dogs. The pho dogs were excellent and even entertained the Ankle Biters briefly. Twenty four fabulously decorated paper mache dogs complete with individual pho eating personalities. Brilliant.
My great sadness was that they were out of t-shirts. I so wanted to get one for myself and one for the Bread Winner. On the flip side, I picked up a a sheet with Tina Le, a Vietnamese born, Australian raised, Melbourne chef's pho recipe. It was this that I used as the base for my stock on the weekend.
I will type out her recipe verbatim but I did adjust it. I used 3kg of meat and less water as I have a 6 litre Slow cooker. I did the initial boil of the meat in my stock pot and then transferred it to te slow cooker and let it do it's thing overnight. First thing the next morning I put the spices in. I use a large tea infuser to hold the spices. I put the onion and ginger in as is, not wrapped in cheesecloth.
The best fun was charring the onion and ginger.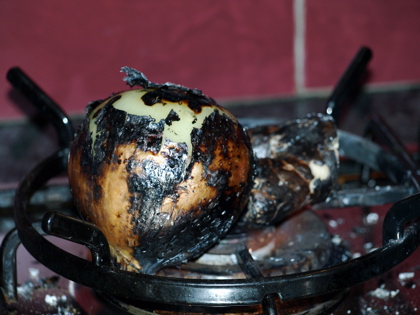 My hot tip for slicing paper thin beef is to slice while it is mostly frozen. You'll need a good sharp knife. Once you have your stock made, bring it to a rolling boil. Meanwhile, blanch your noodles and place them in the bottom of each serving bowl. Top with beef and thinly sliced brown onions. Pour the boiling stock over the top. It will cook the meat. Have your platter of garnishes ready for everyone to dress their own. Bean sprouts, coriander, thai basil, chilli sauce, lime or lemon wedges, sawtooth coriander, spring onions.
Pho Broth by Tina Le
makes 10 large bowls
4kg beef spare ribs
2 medium brown onions
1 large pieces ginger
3 rock sugar crystals (I used palm sugar)
6 pieces star anise
1 cinnamon stick
3 dried cardamon pods
10 cloves
1 tablespoon coriander seeds
1 piece licorice root
1 teaspoon whole black pepper
2 teaspoon fennel seeds
4 tablespoons salt
1/2 cup fish sauce
1 tablespoon MSG – optional (no surprise that I left that out)
Preparation:
1. Place the beef bones in a 12 litre pot and add cold water to cover and 1/2 cup salt. Bring to a boil and boil vigorously for 5 minutes then drain into a large colander. Discard cooking water. Rinse bones well with cold water. Clean pot.
2. Char onions and ginger over a gas burner on high heat, turning with tongs, until blistered and blackened for about 10 minutes. When cook enough to handle, rinse and rub under cold running water to remove any blackened skins. Wrap charred onion and ginger in cheesecloth and tie into a bundle.
3. Return the par boiled bones back to the pot, together with the charred onion and ginger, sugar and 8 litres of cold water. Bring to a boil, skimming the surface of froth until it ceases to rise. Reduce heat and simmer, partially cover the pot with a lid and skimming froth occasionally, for 2 – 3 hours. Add about 2 lites of boiling water to the stock pot to replace the liquid lost during the 2 – 3 hours of simmering. After 1/5 hours of simmering, remove some ribs from the pot, allow to cook and sliced rib meat into thick slices for serving later.
4. Toast dry spices over low heat until fragrant. Wrap the roasted spices in a spice bag (or piece of cheesecloth) and add to the broth. Let infuse for 30 minutes. Remove and discard both the spice bag and onions and ginger bag.
5. Add salt, fish sauce and MSG (if using). Reduce heat and cover the pot with lid until serving time.