Portuguese Egg Tarts Recipe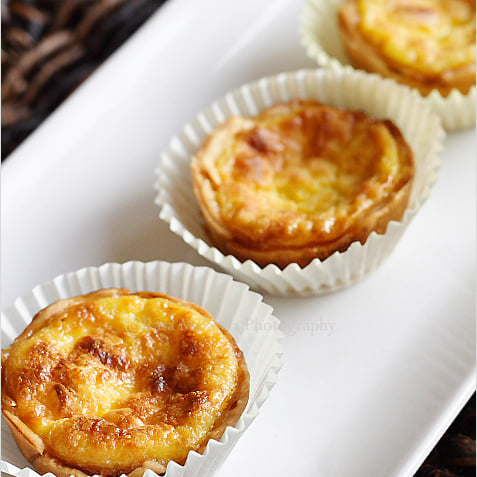 http://rasamalaysia.com/portuguese-egg-tarts/
Portuguese Egg Tarts Recipe
Everyone loves Portuguese egg tarts and I am sharing my Portuguese egg tarts recipe with you.
I did not make these Portuguese egg tarts from scratch. As a non-baker, I always take short cuts when it comes to baking. For the shell, I "cheated" with a pack of off-the-shelf Betty Crocker Pie Crust Mix. You can also use Pillsbury frozen and rolled pie crust.
The instant pie crust mix did not disappoint. The crust was so flaky and the texture was so light. If you don't like your Portuguese egg tarts too sweet, you can reduce the sugar a little bit. Be sure to use jumbo-size eggs or you might be short of the filling mixture for these Portuguese egg tarts…
If you live in California and would like to try out some really good egg tarts, I strongly urge you to go to the following two establishments:
Golden Gate Bakery
1029 Grant Ave
San Francisco, CA 94133
(415) 781-2627
This famed bakery is a legend in the San Francisco Bay Area. The line is longer than the Great Wall of China, but let me assure you that their egg tarts are well worth the painful wait. Don't expect any good service from the shop keepers either, but do expect a lot of satisfaction from the hot-off-the-oven egg tarts.
Golden Gate's egg tarts are 5 fingers licking good.
Jim's Bakery (金狮饼家)
102 E. Garvey Ave.
Monterey Park, CA 91755
(626) 573-5757
This is the best kept secret of Southern California. Jim's egg tarts are equally sublime and the crusts are so flaky they are to die for. Trays and trays of egg tarts are served right out of the oven but they are usually gone in no time. Call ahead to get the freshest and prettiest selection.
Opens from 7:30 a.m. to 7:00 p.m.
(Chinese recipes, prepare authentic Chinese food now!)
Click Images Below for Similar Recipes:
LOVE THE RECIPE & PHOTOS? PLEASE SHARE:
Sign Up for Email Updates
Enter your email for new updates: recipes, giveaways, and more!