Shocking though this seems to me, First Born is SIX years old. Really. I've been doing this parenting gig for six years. Crazy. In fact, I think this is the third of his birthdays that I've blogged about.  Which must mean that this blog has recently had a birthday too.
This year, the boy had a pool party. As a one time only special, he was allowed to invite his whole class for a two hour extravaganza of pool games and fun on the great big inflatable slide we set up specifically for parties. I figure a boy has to reap the rewards of having a swim teacher for a mother.
Food was not a focus as the kids spent the vast majority of the time in the water. We had corn chip and dips, a big fruit platter, heaps of popcorn and I made as many sausage rolls as possible out of 2kg of my sausage roll mix. Leftovers were very minimal.
The food challenge was to provide a birthday cake that was safe to be eaten by one of First Born's best friends* who is allergic to eggs, dairy and nuts. Fortunately, one of the other clever Mums had already found a winning recipe. This cake is free of eggs, dairy and nuts and is light, moist and delicious. Unfortunately, the icing is not pretty, as it is a simple mix of cocoa, freshly squeezed orange juice and cicing sugar so it is quite runny. The flavour however, is fabulous.
Egg free, daiy free chocolate cake
3 cups flour
1 cup sugar
100g fair trade cocoa
2 teaspoons baking soda
1 teaspoon salt
3/4 cup rice bran oil (200 cc's)
2 tablespoon vinegar
2 teaspoon vanilla essence
2 cups cold water
Mix the dry ingredients.
Add the wet ingredients. Stir until smooth.
Pour into two round, prepared pans.
Bake at 180 degrees for 30 – 45 minutes. Test from 30 minutes until a skewer comes out clean. Do not overcook to keep it moist.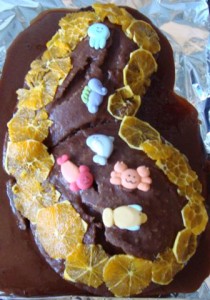 *An interesting aside about this friend. We discovered at the birthday party that the parents of this friend, the Bread Winner and myself were in the same ante-natal classes in a central Melbourne hospital whilst pregnant with the boys. Five and a bit years later, our lives converge because our boys are at the same school and form a close friendship. One of those funny little "small world" moments that happen from time to time.