Me and the tofu. Totally stuffed.
My craving for stuffed tofu and yet more green vegetables has led to a very messy kitchen today. Which is kind of depressing as I just knew it wasn't going to taste as good as I wanted it to. I think I left my cooking mojo in the bottom of the pool this morning. Or maybe spending my fifth day straight primarily in the kitchen was just overdoing it. Whatever, I'm tired, my throat hurts and what I really want is a double serve of agedashi tofu made by someone else. Clearly it's not going to happen. Don't get me wrong, this was good, it just wasn't precisely what I felt like.
Stuffed Tofu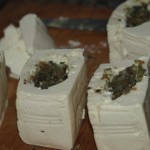 2 x 300g blocks firm tofu
2 shallots
3 cloves garlic
1 piece Chinese broccoli
1 tablespoon dried shrimp, soaked in boiling water for 10 minutes and drained (optional)
rice bran oil for cooking
Combine all ingredients except tofu and oil in thermomix (or food processor) for 5 seconds on speed 6.
Cut each block of tofu in half. Make a pocket hole in the long thin end of each piece. Save the left over tofu to blend into a soup or something that needs to be a little creamy.
Heat wok or fry pan and pan fry tofu on all except open sides until golden.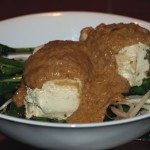 Vegetable Stir Fry
bunch Chinese broccoli, roughly chopped
large handful snow peas, topped and tailed
handful bean sprouts.
rice bran oil
Heat rice bran oil in wok, throw in broccoli and snow peas. Stir fry for two minutes. Throw in bean sprouts and stir fry for 1 minute more.
Serve tofu on top of vegetables and topped the lot with this sauce